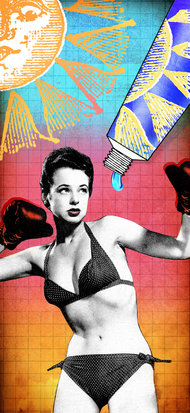 There is no question most skin cancers are related to sun exposure, yet even with sunscreen sales approaching $1 billion a year, skin cancer rates continue to climb. Melanoma diagnoses have risen nearly 2 percent a year since 2000 and are increasing even more among young white women.
Some experts blame inappropriate use of sunscreen, saying that people do not apply enough lotion (a golfball-size dollop) or do not reapply it every two hours as instructed. But there's another major concern: Until recently, many sunscreens with a high sun protection factor, or SPF, were designed primarily to protect people from ultraviolet B rays, the main cause of sunburn. These sunscreens may have enabled users to stay out longer but did not necessarily protect them from ultraviolet A rays. These are associated with aging and skin damage, but some experts believe they may also be implicated in skin cancer.
Experts are urging people to limit their time in the sun, especially at midday, and protect their skin with hats, shirts and cover-ups instead of relying exclusively on sunscreen.
"Sunscreen is not a magic bullet," said Dr. Steven Q. Wang, director of dermatologic surgery and dermatology at Memorial Sloan-Kettering Cancer Center in Basking Ridge, N.J., and a spokesman for the Skin Cancer Foundation, which receives funding from sunscreen manufacturers. "It's just one of the defenses against the harmful effect of UV radiation, and that message gets lost."
This summer, most of the sunscreen on store shelves must conform to new Food and Drug Administration labeling rules that may help remedy consumer misperceptions. Still, concerns remain about ingredients in some sunscreens.
Use of the label "broad spectrum protection" now means the sunscreen has been proved to protect against both UVA and UVB rays, although the UVA protection may be comparatively weaker. Any product with an SPF lower than 15 must carry a label warning that it will not protect against skin cancer. Products cannot claim to be waterproof, only water-resistant, and labels must note a time limit of either 40 or 80 minutes before the sunscreen is ineffective. Manufacturers can still sell sunscreens with SPFs that exceed 50, though F.D.A. officials are evaluating whether they should remain on the market, said Reynold Tan, a scientist in the agency's Division of Nonprescription Regulation Development. It's not clear that sunscreens with higher SPFs actually are more effective, and consumers may not apply them as frequently.
Advocates like Sonya Lunder, a senior analyst for the Environmental Working Group and an author of its report on sunscreen, have criticized the F.D.A. for backing away from some of its own proposals, like putting in place a star system that would give consumers more information about UVA and UVB protection, capping the SPF values allowed on the market at 50, and banning sunscreen sprays, which may not work as well to prevent sunburn.
Europe and Canada have tougher standards, Ms. Lunder said. "In the U.S., you can make a bad sunscreen and just not call it 'broad spectrum,' but still sell it," she said. "In Europe, the pass-fail test is stronger, and it must protect against both UVA and UVB."
Here is some advice to bear in mind when selecting sunscreen:
■ Look for products with an SPF of 15 to 50, and that are labeled "broad spectrum protection," meaning they protect against both UVA and UVB rays. Higher SPF values are misleading. "It's like the gas mileage sticker on a car. It's based on test conditions that you'll never achieve in the real world," said Ms. Lunder.
■ Keep babies younger than 6 months out of the sun, as their skin is especially sensitive. Sunscreen should not be used on infants. If they are outdoors, keep them completely covered and in the shade.
■ Try to keep older children inside when the sun is harshest, from 10 a.m. to 2 p.m. A bad sunburn in childhood or adolescence doubles the risk of melanoma later in life, according to the Skin Cancer Foundation.
■ Avoid sunscreen sprays. The F.D.A. has banned sunscreen powders (though some products may still be available) and has asked for more data on sprays. The concern is twofold: that not enough sunscreen makes it onto the skin, and that the spray may be inhaled into the lungs.
■ Avoid products with vitamin A, retinol or its derivatives, such as retinyl palmitate and retinyl acetate. At the moment, the F.D.A. says there isn't enough evidence to suggest these are harmful, but the Canadian health authorities appear to be concerned that the additives increase sun sensitivity. They have proposed requiring that sunscreens with retinyl palmitate carry a warning saying they can increase the possibility of a sunburn for up to a week.
■ The Environmental Working Group recommends avoiding products with oxybenzone, a chemical that may disrupt hormones. Though research has found this effect, many scientists say the effect is so weak as to be insignificant. The advocacy group, however, recommends products that use zinc oxide and titanium dioxide as active ingredients. (These products may leave a milky white film on the skin.)
■ Look for fragrance-free products. Scents bring more unnecessary chemicals and potential allergens to the mix.
■ Take endorsements and seals of approval with a grain of salt. The Skin Cancer Foundation gives a "seal of recommendation" to sunscreens, but only if their manufacturer has donated $10,000 to become a member of the organization.
A version of this article appeared in print on 05/28/2013, on page D4 of the NewYork edition with the headline: The New Rules for Sunscreen.